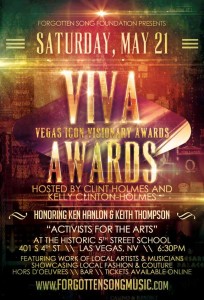 100's enjoyed a delightful evening of music, art, fashion, heavy hors d'oeuvres and libations.  The Second Annual VIVA Awards, honoring "Activists for the Arts" Ken Hanlon and Keith Thompson was hosted by Clint Holmes and Kelly Clinton-Holmes at the Historic 5th Street School.  The event, presented by Forgotten Song Foundation featured the work of local artists and musicians and showcased local fashion and couture.  Proceeds from the VIVA Awards benefited Forgotten Song Foundation, Inc., a registered 501c3 organization dedicated to recognizing, remembering, and sustaining the visual artists and performance artistry of live music for future generations.
Download the press release here.
View us on the Morning Blend
Read about the event at KTNV.com
Photos below courtesy of Barbara Maeker.