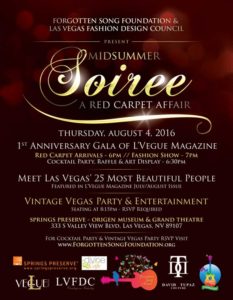 Midsummer Soiree, held on Thursday, August 4th, was a many layered exciting event that took place at the beautiful Springs Preserve who graciously opened their wonderful facility to us. The evening was in collaboration with Forgotten Song Foundation, Las Vegas Fashion Design Council, L'Vegue Magazine and David Tupaz Couture. It began with a VIP Film Premier of the movie, Midnight Muse- Las Vegas – Milestones in Music, a creation from Forgotten Song Music showcasing musicians of the past 50 years in Las Vegas, who supported the headliners. The exciting news is that PBS – Channel 10 will be showing it on September 19 at 10:00 p.m. PST. What an honor and something you don't want to miss watching. Many thanks go out to Philip Nobert and Dave Berry and all the musicians and vocalists for their contributions to the film. The Springs Preserve has generously offered Forgotten Song Foundation space in their gift shop and offers the entire Midnight Muse collection. Stop in and pick up the collection the next time you are there.
The next part of the evening included the 1st Anniversary Gala of L'Vegue Magazine who honored Las Vegas' 25 Most Beautiful People, featured in the July/August L'Vegue Magazine. The host for the evening was Las Vegas' own Steve Schorr. The honorees represented different aspects of the community: entrepreneurs, health providers, and altruistic friends of the Las Vegas area. Each honoree was gracious, giving a short thank you after receiving her/his award.
Then came the runway fashion show presented by David Tupaz Couture. Two of the designers who ironically are sisters Carina Roman and Christina Roman, were students of his, and each showed 4 different designs of delightful creations. Next came David's own creations that were superb in all ways. Typical of his fashion shows, he has a single theme that is carried out in all kinds of ways and styles, each more exciting than the next. This year his theme was black and white with colorful flowers strategically placed or flowers within a design imprinted on flowing fabric that delighted everyone who saw it. As his fashions were presented, you could hear oohs and aahs throughout the crowd. There is no doubt about his talent whose fashions have been seen around the world. We are blessed that David has made his home in Las Vegas and is dedicated to putting our city on the map for haute couture design.
After all of these wonderful events, there was even more to come with vintage appetizers and drinks available at the Divine Café, where five of the Forgotten Song Music's musicians performed – The Magnificent Mikes as Ann Parenti, the emcee, named them for the night. Featuring Mike Candito on drums, "Red" Michaels on bass and "Detroit" Mike Hepner on keyboard. A real jam session began when Mike Candito, Toscha Comeaux, Candace Kruse, and Chadwick Johnson from the Midnight Muse collection sang and songstress Jessica Vanek performed, too. We had the grand finale with Maggie Mancuso and Ann Parenti joining with Toshca, Chadwick and Mike on an improvisational blues medley that made the crowd enthusiastically cheer. What a night!